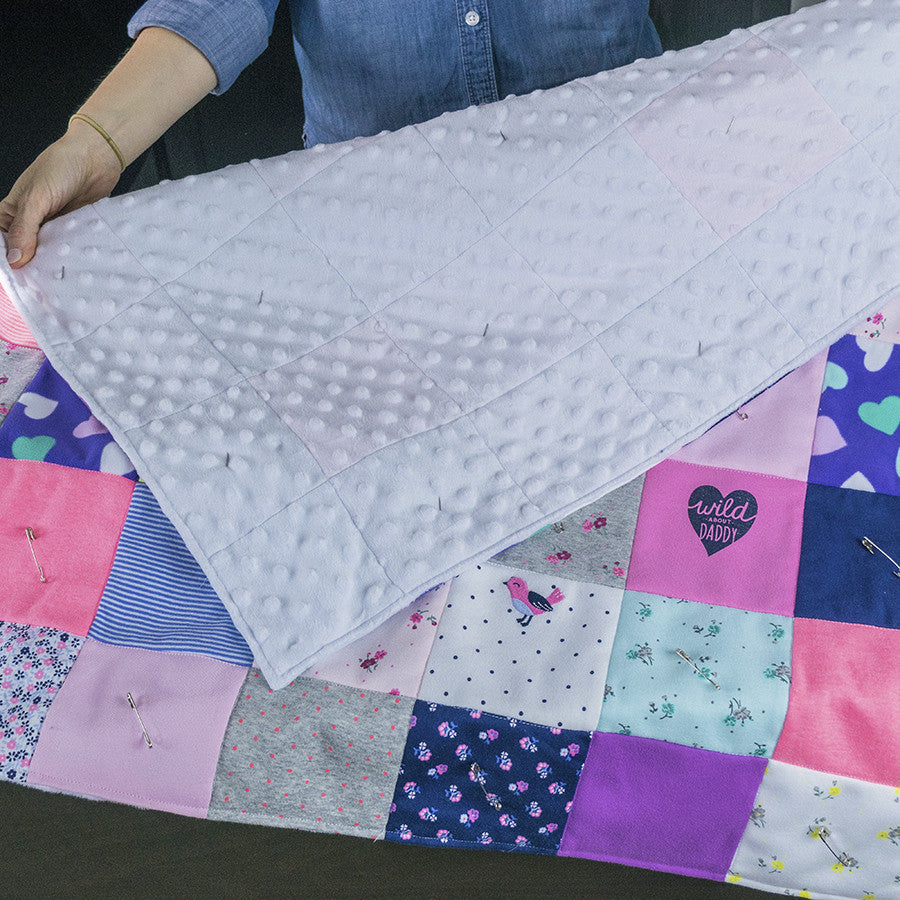 The standard quilt backing for my ListaLu baby clothes quilt kits is white minky, and it's what I use in my book tutorials and video tutorials as well! It's also my most popular quilt backing for my custom quilts over at JellyBeanQuilt.com - people love it!
But what the heck is it?
For those of you uninitiated into the world of fuzzy baby stuff, minky is basically a super plush, super soft fabric. Most people can't help but touch it when they see it, and it's perfect for anything designed to snuggle.
It is commonly used for baby softies, like toys, plush animals and blankets. It can come in a variety of styles, like smooth chevron, chenille ribbing, animal prints, and ultra-plush. But by far the most popular is the dimple dot, which is what we use in our kits!
Because it's such a plush fabric, we don't need to use batting in our quilts - and since these blankets aren't bed-size, batting would make them a little too stiff anyway, so minky works great! It's also a high-quality, professional looking fabric, so you quilt will really look polished.
White is standard in all our kits, mainly because it just coordinates with everything! We do carry several other colors, and are happy to swap out the white for the color of your choice - just let us know in your order notes! It might just take an extra day to ship, depending on your order time - we will just have to open up your box, make the swap, and pack it back up.
Caring for minky is easy - another reason to love it! It doesn't pill or look old with washing, so feel free to machine wash it! It's also very sturdy, and can really hold it own as the backing material for such a wide variety of fabrics types that most people use on the quilt top.